TLDR
曾几何时,我也以为雷电3传输数据,能跑出标称的40Gbps带宽,不过仔细翻了翻文档,我才发现只传输数据,最大带宽是22Gbps。这个"40Gbps"的标称值,有点类似于电信的"3000M宽带"(1000M家庭宽带+千兆无线+千兆5G)
0x00
第一次发现这个说法,是在一篇知乎专栏中发现看到的

但是文章中并没有给出这个数据的出处,所以一开始内心也表示怀疑,于是搬出Google

Google干脆搬出了Apple的文章,但是鉴于Apple的营销手法,这个数据我觉得并不是十分可信。
但是第二条搜索记录就峰回路转,Dell给出了相同的数据
https://www.dell.com/support/kbdoc/zh-cn/000149848/thunderbolt3usb-c的最大数据传输速率-在戴尔系统上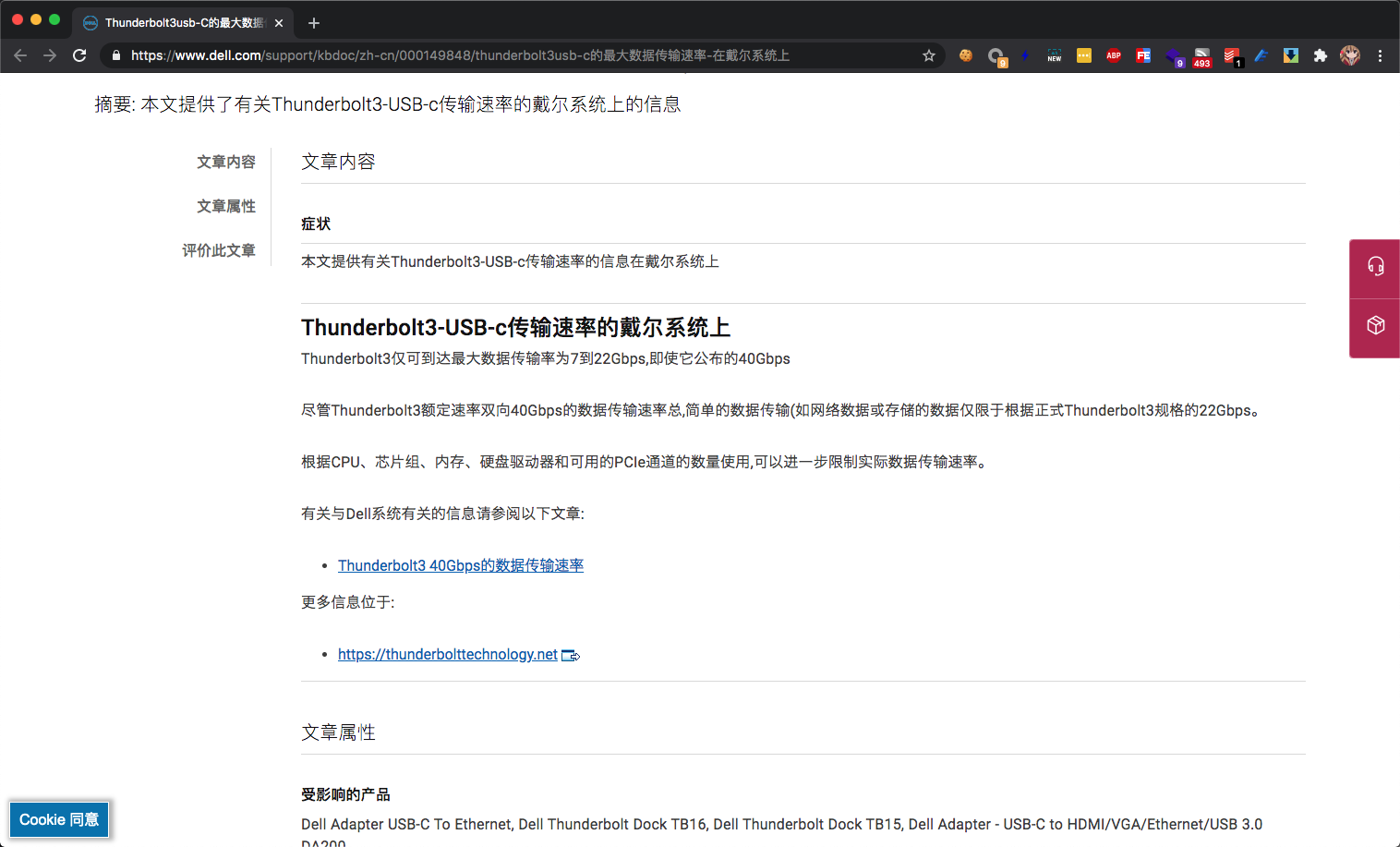 并且给出了雷电官网下的一篇pdf
https://thunderbolttechnology.net/sites/default/files/HBD16235_Thunderbolt_TB_r05.pdf
稍微翻了翻,就能找到其中对于雷电3带宽的描述
Note that there are many cases where the underlying PCI Express and DisplayPort traffic will not consume the full 40 Gbps Thunderbolt 3 interface. And in some of the configurations described, the amount of data and display together from these underlying protocols will consume more than 40 Gbps.
As a reminder, four lanes of PCI Express Gen 3 operate roughly at 32 Gbps (4 x 8 Gbps). Two links of (four-lane) DisplayPort 1.2 consume 2 x (4 x 5.4 Gbps) or 43.2 Gbps. For both these numbers, the underlying protocol uses some data to provide encoding overhead that is not carried over the Thunderbolt 3 link, which reduces the consumed bandwidth by roughly 20% (DisplayPort) or 5% (PCI Express Gen 3). Regardless, adding both together results in a figure above 40 Gbps.
If a consumer stresses a specific Thunderbolt port, and attempts to use dual, simultaneous displays at high resolution and additional PCI Express data, the Thunderbolt 3 silicon will prioritize the display traffic first and throttle the (PCI Express) data traffic. When each DisplayPort 1.2 link is established (via either a downstream Thunderbolt display, or via a downstream dongle to DisplayPort), the Thunderbolt silicon checks the maximum data rate that link can demand, and ensures there is enough Thunderbolt link bandwidth available.
For DisplayPort 1.2, the maximum bandwidth on the Thunderbolt interface is about 17 Gbps of data, so for a 20 Gbps Thunderbolt link, a single DisplayPort 1.2 interface can be used, and for a 40 Gbps Thunderbolt link, two DisplayPort interfaces can be connected (see Figure 7).
After the link is established, Thunderbolt transmits only the display traffic as demanded, so even though a DisplayPort 1.2 interface is used, if the screen resolution is set to 1080p, for example, only about 4 Gbps of the Thunderbolt link is used for display. If it is a 4K display, perhaps 14 Gbps will be consumed.
If a display is plugged in that exceeds the maximum number of displays available from the Thunderbolt silicon, the display is lit up, and the first display in the chain is deactivated. PCI Express traffic on the Thunderbolt interface is then allowed to consume the remainder of the link.
简单解释一下,就是雷电3会优先保证显示器的带宽,即使没有插显示器,纯数据也最多跑到22Gbps,剩下的18Gbps给一个5K显示器预留。
对比USB3.2 Gen2的20Gbps,似乎也没差多少……